February 2011 Photographers Resource - Monthly Edition 86
Winter Waterfalls and How to Photograph Water
In This Issue:-
February is the month of love, not only in the human world with Valentines Day on the 14th of February, but also within the animal kingdom when males attract females, couples start to build nests for the new breeding season and for some like the Great Crested Grebe, in our picture of the month, mating dances begin. The Wildlife Photography in February section below gives more details of others in the animal and plant kingdoms who are exhibiting this month.
Our main feature this month covers Waterfalls and how to photograph water. Waterfalls this time of year, should be at their most impressive in the UK, especially after a wet weather spell. So if you can brave the cold take the opportunity to go out and explore, the other advantage in going now is that many waterfalls are in wooded areas or gorges and although any photos captured are not as colourful, they are easier to see as there are no leaves on the trees to block your view. This month we have taken the opportunity to update our Waterfalls

section and make sure all lists and location guides are up to date. We have also added two galleries of the Ingleton Waterfalls Trail

in Yorkshire, which were taken in January to show you what you can get if you make the effort to make a visit. So take a look at the feature below for more details.
Keeping a water theme our main Photographic Feature this month is photographing water, and although we have covered before Photographing Waterfalls

and Photographing Seawater,

which both methods involve having to brave the cold this time of year, we have taken this opportunity to look specifically at how to go about photographing water and the techniques in order to get soft water flows, or icicle effects, or water that shows movement. To go with this we have also detailed a project on freezing water to help show you what can be achieved. So see the main photographic feature section below for details and links to the new articles.
The diary for next month, March, has been added and there is one event taking place that I would like to bring to your attention now, so that you can get prepared ready for the annual visit to the largest photo show in the UK this year. Yes it's that time of year for the annual Focus on Imaging Show,

at the NEC in Birmingham, this year it is taking place from the 6th to 9th March. For photographers professional and amateurs alike, it is the only show that showcases all your photographic needs from image capture through to editing, output and what you can potentially do with your images, whether it be book collections, framed artworks and more. Although it doesn't take place until next month, it is worth visiting their website and try to organise some plan of what you want to see using their, downloadable floor plan, exhibitors list and latest press releases of what products are going to be launched etc. You can also register online and get an e-ticket for entry. Over 200 exhibitors will be showing you what they have to offer and there are always many opportunities to not only look at and handle equipment, but also to be able to buy with many show offers, from the resellers and distributors exhibiting there. There are also free seminars and workshops available and many of the exhibitors have demonstrations, including Just Ltd showing to how safely clean your DSLR sensor, DIY framing giving 15 minute practical demonstrations on mount cutting and framing, Corel Paintshop Pro 15 minute demos, Bowens live flash demos, the Epson stand looking at preparing colour prints, and more. With show much on offer it is worth the forward planning. To get an idea of what sort of things you could see take a look at our report from last years show in Focus Show 2010 Report.

---
Feature
Waterfalls
Waterfalls are magical places and they can appear in all sorts of places and in all different shapes and sizes. Some can be really accessible and small, more like a cascade and these can be found in such places as roadside brooks, coming off ponds or lakes in our large country house estates, or even in caves underground. While others are much larger and are usually created where river courses make their way through the soft rock bed of mountains or hill ranges. The sight and sound of a waterfall has a relaxing affect on our senses, and if you take time to watch, listen and absorb the atmosphere it feels cleansing. Waterfalls and their effect on us

looks at this aspect in more detail.
These properties are not only experienced when actually at the waterfall, but for some the affect can also be felt from a photograph, moving image or using our imaginations with just the sound. We have a Waterfalls section that contains articles, lists, many location guides and more on this topic.

Our first article, Waterfalls Defined discusses the different types of waterfalls from cascades, spouts and curtains and looks at how they are generally classified and identified. Although there are many on our own doorstep within the UK, they appear all over the world and some of the largest and best known of them are those like the Victoria Falls in Zimbabwe and Niagara Falls on the USA/Canada border. Take a look at our Project - A Budget Trip to Photograph Niagara Falls (USA) to find out how to have a cost effective trip to see this magnificent waterfall, in this romantic setting.

In the UK our largest waterfalls include two in North Wales, Swallow Falls nr Betws-Y-Coed in Caernarfonshire and Pistyll Rhaeadr in Powys which is the highest waterfall in Wales dropping some 240ft (73m). Both of these are open all year and are easily accessible. One of the tallest in England is High Force at Middleton In Teesedale in Durham, this two is easily accessible from the car park provided and you can not only walk below it, but in the summer months can also access it from above. While the highest waterfall in the UK is in the highlands of Scotland dropping 658ft (200m) and this is Eas a' Chual Aluinn in Sutherland, this one is not as easily accessible as it is 5 miles from any road so you need to be prepared to take a good hike to get to it.
As well as these, within the mountains and hillsides there will be many more, much smaller and some of these will only appear when the weather conditions have been right. Like for instance in the Brecon Beacons in Wales. When driving along the A470 through this area during the winter months, if there has been a significant amount of rain there will be small cascading waterfalls coming down the hills. Your problem will be seeing them as the road is very bendy so take care, and make use of the many stopping places to pull up and wander to see them close up. One year when travelling through during the winter months and not only following some heavy rain, but also that day it had been very cold, there was not only the rushing water, but also the opportunity to take pictures of very large icicles that had formed. It was truly magical.
When setting out to photograph a waterfall you need to first start with an idea of the mood you are hoping to capture. There are many things technically to take into consideration to achieve the result you are looking for, as well as making sure you take along the right kit that you will need to achieve it. Photographing Waterfalls starts by looking at the types of waterfalls and the properties of water looking at the possibilities of what we can do with the water to give different effects. This then leads on to how to photograph waterfalls - shutter speed where it takes a look at what shutter speeds you will need to use for different water effects, how by using exposure settings can determine the amount of detail captured in the water as well as how using polarising filters and graduated filters can also help. The final article in the series how to photograph waterfalls looks at exposure, white balance, perspective, using filters to enhance or add effects as well as protecting your camera from water spray.

If after reading this you would like to get out and have a go then first read planning a waterfall trip, which gives you some pointers on what to consider in both terms of location whether it be in the UK or abroad, and what photo and other kit to take with you. If you want to do a day trip within the UK then we have many location guides one some of the better ones to visit, see the Waterfalls Section for a full list.

If you want to get in a number of waterfalls in one day, then perhaps a visit to the Ingleton Waterfalls Trail in Yorkshire is a good starting point. On this trail they have 8 major waterfalls in
total in two different connected valleys, following two rivers. From their car park you start off on the River Twiss, see our gallery, Ingleton Waterfall Trail - River Twiss

and from the end of this you walk across the hills following a well marked path and continue the trail along the River Doe, for images of what can be seen on this part of the route see our Ingleton Waterfall Trail - River Doe

gallery.
---
Photographic Feature
How to Photograph Water
With our main feature this month being Waterfalls, we have stuck with the same theme in the photographic feature but are looking at other ways of photographing water.
Our planet would not survive without water, in fact nor would we so it is an important commodity for all of us. We are also lucky enough that our atmosphere provides us with quite a bit of water every year from the clouds weather it be in the form of rain or snow eventually it all ends up on the ground as water. The UK is lucky enough to get it's fair share of rain each year and with our glorious countryside around us there are many reciprocals to take it on board, such as waterfalls, rivers, lakes, ponds, underwater caves, holes in the road which create puddles and of course the sea. So we have a wealth of opportunities and different locations in order to get some good images of water. But what is the best way of recording it, how do we go about it, and how can we control our cameras in order to be able to get those images we want.
It is this that we are going to look at here.
| | |
| --- | --- |
| Photographing water in all its forms is therefore a large field, but we have a variety of articles on some aspects of this, and with this issue of the magazine we have included two new articles. One Photographing Water looks principally at how to get different effects when photographing running water. The other Water Frozen In Time looks in more detail at one of these effects and is a sort of project, encouraging you to have a go. For both these articles we have not gone out on location to experiment and produce the images to illustrate the point, but instead have used the kitchen sink as our source, so you can to. Because we have used an indoor environment we have been able to use a set up that is quick to put together and utilises some of the skills and products that you already have. We used both Cool-Lite's and a Nikon Creative Lighting system for our illustrations. | |
When photographing water we can create many different effects such as blurring the water to create a romantic effect, or to show the fluid motion of say the waterfall, or you can freeze the water to create the illusion of water crushing against rocks, or turbulence in rapids, and all this can be achieved by using different shutter speeds

settings on our cameras. The fluid more natural effects are created by using slower shutter speeds and the freezing of water is achieved by having faster shutter speeds and using flash.
When photographing water we also need to consider exposure,

white balance,

depth of field

and perspective when trying to get waterfalls and seascapes. The sea can provide a whole set of different images, it can vary from being flat on a summer day, to stormy with huge braking waves in winter and have a variety of modes, colours, and action. Take a look at photographing seawater

for more on this.
Two other effects of water that can be captured are rainbows, which occur usually when bright sunshine follows rain and reflections. Rainbows are caused by light being bent through particles of water. Nearly always seen best when the sun is behind you and the rainbow in front of you, but you can also get rainbow effects from mist, waterfalls, fountains, spray bows from sea spray, and moon bows by moonlight. Rainbows - How to photograph

explains both the rainbow and how to get great photos of them, as well as looking at the aspects of photography you need to consider to achieve this. The best reflections are visible on very sunny days, and in locations such as the lake at Stourhead

in Wiltshire, in the autumn produce some very colourful images.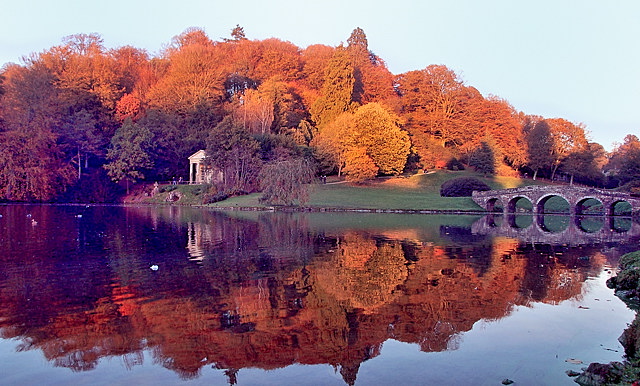 Stourhead, Wiltshire




---
The Photographers Diary
The March diary is now in the 'next month' slot with February moved to in the 'this month'. Both months have a lot of opportunities for everyone. Some highlights that are of particular interest are:-
We start off the month with the Scottish Snowdrop Festival detailed in the wildlife photography section below. It is also the month of World Wetlands Day and National Nest Box week. It is also the month of love and for humans this is celebrated on the 14th of February, Valentines Day, for the animal kingdom see the wildlife photography section below.
Fire festivals

are still taking place in some parts of the UK, including in Scotland and the Marsden Imbolc Fire Festival in Huddersfield, Yorkshire where on the evening of the 5th February where 1,500 people take part in a lantern and torch parade with fire jugglers, antler wearing drummers, Celtic characters, fire druids and a 12ft Jack Frost. This evening event is then all finished off with a firework finale.
The 6th of February is when the UK Chinese communities celebrate this years Chinese New Year with parades and entertainment taking place in London, Birmingham and Liverpool to mention a few. During these colourful events Chinese art and entertainment is provided including food, firecrackers, Chinese Dragon Dances, acrobats and firework displays. Definitely adds a bit of colour to these still overcast days.
For the sports enthusiast there are a number of events including marathons, like that of the Brighton Half Marathon on the 20th. The Big Scuba Show at Olympia in London, on the 19th and 20th looks at where to go for a good dive, equipment, clothing and also includes the British Underwater Image Festival for photography and video.
For photographers of people and fashion there is London Fashion Week in the Natural History Museum, London starting on the 18th and running until the 22nd. And wedding photographers could visit the National Wedding Show taking place at Olympia in London from the 18th to 20th, taking a look at the catwalk shows and what the 250 exhibitors have to offer.
For the more unusual activity there are a few this month including:-
Silver Ball Hurling at St Ives in Cornwall on the 6th February. This is where the Mayor throws a silver hurling ball into the crowd on the beach and this is past from one person to another as they run through the town until one minute to 12noon when it arrives back at the Guildhall and is handed back to the mayor ready for another year. This is a traditional sport that is only played in Cornwall. It is only played in a few places, annual at St Ives and twice annually at St Columb Major around Shrove Tuesday. For more on Cornish hurling and its origins see the page of Wikipedia.

Scarecrow Festival at Tatton Park in Cheshire, which takes place during the school half term holidays starting on the 19th.

Slaithwaite Moonraking Festival, Yorkshire at the end of the month on the 26th. An hour long Street Procession of up to 3000 villagers and visitors, some bearing lanterns made of willow withy and tissue paper and lit by candles, ending at the canal where performers re-enact the moonraking tale. Several men dress as gnomes, a woman is dressed as the moonraking fairy and two fancy dress policemen play the bagpipes. They all tow a moon-shaped lantern mounted on a float along the canal with the women using rakes to guide the lantern as it floats along and to "rake" it out. The celebrations end with a firework display.
Staying in Yorkshire you also have the Jorvik Viking Festival during the half term holidays, starting on the 19th which include battle re-enactments and lots of activities, and the Wakefield Rhubarb Festival on the weekend of 25th and 26th where all things rhubarb is celebrated with cooker demonstrations, themed meals and tours of the forcing sheds where rhubarb is grown.
There are many activities for those who like to be outdoors including the Boat and Caravan Show from the 22nd to 27th at the NEC Birmingham, everything on show to do with camping, caravanning and boats.
---
Wildlife Photography In February
February is the month of love in the animal kingdom with many species of birds particularly starting to get ready for the coming years new off spring. A walk in the woods or in the countryside will result in you hearing more vocalisation of the birds as they try to mark out their territories and attract their mates. In woodlands you may hear the drumming of the Greater Spotted Woodpecker as they knock about on dead trees, and because there are no leaves on the trees, take a look upwards and you may also be lucky enough to see one. There are a number of sites on the internet where you can hear different bird calls, like a Guide to UK Birdsong provided by the BBC, so on an evening why not take some time to listen to some of the different sounds, so that on the weekend you can get out and about and try to identify what you hear. You can also download some of the as MP3 files to play on a mobile listening device, which means you could take them with you when you go out. Getting to know their habitats, calls and rituals will give you a better chance of tracking them down to photograph them.

On or near ponds and large water expanses you may come across the Great Crested Grebe, like the ones in the picture of the month above, doing their mating dance and passing items to each other as part of their ritual. If you're lucky enough to see this take time to watch and photograph of course, look out for the heart shape formed when they synchronise their necks. The Grey Heron will also be busy in their heronries this month, these are usually found in trees/wooded areas near to larger lakes, and can consist of 4-20 large nests. They nest in trees, and to see them balance on their long legs on very narrow branches is a
.
spectacle itself. Their nest is large and usually position between a 'V' where two branches join together. They are quite lazy nest builders and are continually taking nesting items from other nests within the heronry. When their young start to become mobile, it can also become heart stopping to watch as they precariously hover towards the edges of the nest. One of the largest heronries in the UK can be found at West Sedgemoor in Somerset, where the RSPB have provided a hide nearby in order that you may watch them.

Whilst out in the park or in woodlands you will also see beneath your feet, white carpets of snowdrops. Many will have been starting to make their way out of ground and throughout this month and the early part of March their white heads will be appearing. They are a delicate white flower and to photograph well you need to get a low position, so use a tripod that can be put near to the ground, and an angle viewfinder or remote cable or viewer like the Photix Hector or Zigview to save you having to get your body into some uncomfortable
positions. This will allow you to generate a pleasant eye view of what you can see before you. If you decide to take a photo from a standing position, use the trees and other items to create a pleasing background, and if you can find something near to ground level that can provide a focal point to draw the viewer to the carpet of flowers. If you want to get close ups of the individual heads, then you will need to employ the techniques of macro photography

also take a look at macro or micro photography

and various ways to take closeups

to help you identify what to look out for and what equipment you may need to take with you.
During February some 50+ properties promote themselves through Visit Scotland to provide a Snowdrop Festival, where they open their woodlands and grounds so that you can visit and see their snowdrop displays, some of these venues are not normally open to the public and do so for this month only. We have a listing, where to see and photograph Snowdrops, of places we have identified throughout England, Wales and Scotland, again some of which are only open for this occasion, so take a look and see if there is somewhere near you that can visit.

As well as the snowdrops you may also see the first signs of more colourful bulb plants such as crocuses and the daffodils towards the end of the month. Also hanging off Hazel Trees you will see the male Hazel Catkins, or Lamb's Tails as they are also known. If you see any take a closer look at the branches nearby as you may also see the female catkin, which is basically a small bulb coming out of the branch, but its attractive feature is the little red tentacles which protrude from it, this is where they release their pollen from.

The 2nd February is also World Wetlands Day, so why not take the opportunity to visit a wetland centre, such as those operated by the Wildfowl and Wetland Trust, who have a number of locations in different parts of the UK.

The 14th to 21st of February is also National Next Box week when each year we are encouraged to put up nest boxes to help our breeding birds, the Blue Tit particularly is out looking for new nest box sites at this time of year, so get yours out fast.
For more February wildlife take a look at Wildlife Photography in February

for more highlights on what you should be looking out for this month.
---
Summary of Articles Included In This Issue
Lists Updated This Issue
Locations Guides Updated This Issue
Galleries Added This Issue
Ingleton Waterfall Trail - River Twiss, Yorkshire


Ingleton Waterfall Trail - River Doe, Yorkshire