ISSN 2399-6706

Non frame pages..
Photographers Resource
.
Locations to take a look at:-

Weald and Downland Museum, Sussex

Snowdrop Valley, Wheddon Cross, Somerset

National Slate Museum, Llanberis, Caernarvonshire

Slimbridge Wildfowl and Wetlands Centre, Gloucestershire
Windsor Castle, nr London

Tintern Abbey, South Wales

RSPB West Sedgemoor, Somerset

Local Projects :-

Photographing Fire Festivals
The Landscape Around You, wither it be urban, suburban or country
Backing Up and Taking Stock

Photographers Diary updated for February and March 2017 events added including:-

Winter Lantern Parade, Valentines Day, Clown Service, Silver Ball Hurling, Fort William Mountain Festival, Stunt Fest, Slaightwaite Moonraking Festival, Jorvik Viking Festival, Pancake Day, Shrovetide Skipping Festival, Ashbourne Royal Shrovetide Football and many more.......
Nature and Wildlife you can photograph during February includes: Bewick Swans, Grey Heron, Greater Spotted Woodpecker, Mistle Thrush, Great Crested Grebe, Frogspawn, Lapwings, Brimstone Butterfly, Snowdrops, Crocus, Hazel Catkins, Wild Garlic, Violets plus more.....

Teach Yourself Photography and Experimenting:-

Understanding Shutter Speed and Aperture
Macro Photography
Understanding Exposure and Depth of Field
Photographing Rainbows
Photographers Resource as the name suggests, was originally a website developed to provide a wide range of information for photographers. Much of the information however is relevant to a far wider audience, including all those who enjoy going out, visiting places or seeing all types of places and events. On top of this Photographers Resource has a range of specialist sections covering a range of topics, and these often have more coverage than anything available elsewhere, so many of our regular users are not photographers specifically but a wide range of people with special interests, and those who just enjoy the opportunity to find out, in one place, a lot about a range of topics.

Each month, we change over the photographers diary that shows events of all types that photographers and others may wish to visit all over the UK. Throughout the month we add articles, lists and new location guides. We also have picture galleries devoted to some places and subjects. Regularly we continually update and expand specific subjects.

Unlike printed magazines, that run for a week or month, we don't have a space limit so can produce large indexes of places, and the information introduced in Photographers Resource is always available, updated and fully indexed in a range of ways.

All information is free and no registration is required.

The Photographers Free Resource

Use it when you like .....

and if you like, also help expand it.

Our doorways allowing direct entry to specific interest areas:-

Monthly Updates (the normal entry point for most people.)

See also the Sections available from the left bar at the main Photographers Resource page.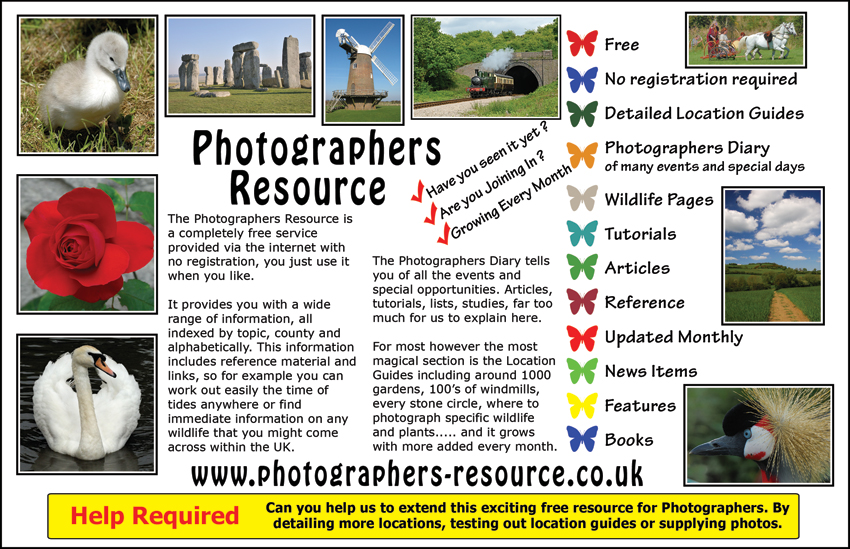 This resource is based around a number of sections
Location guides, with details, grids, links etc, all indexed by topic, alphabetically and by county.
Galleries with collections of pictures.
Route Guides and other specialist pages.
Lists by topic often within a county, allowing you to find so much more to see.
A monthly and future diary system to tell you about a very large number of events, and activities that are on, that you might like to visit or photograph.
A reference section with everything from mapping and weather to comparison information.
A number of articles, covering topics to photograph, photographic techniques and more.
When you like, to find specific information.
Take a look regularly.
Look at back issues, at any time, from our 'Recent Editions' button.
Join in if you like, and help us to grow this even faster. You can help by:-
Writing new location guides, we have grids, guides and other information available to help you, or if you prefer just give us information via an email.
Testing out location guides.
Supplying photos to assist us to show others what is at locations.
Writing articles on topics of interest, like introducing a subject or topic area, a photographic related item or some other relevant item.
Developing or expanding a portal based on another country.
Helping others to find out about this free resource.
Suggest another way.
Why not take a look now click here to see the latest issue, and buttons to see all other sections.
Some of our Highlights:
Abbeys

*Ancient Britain

* Stones Circles

*Canals

* Castles

* White Horses and Hillside Features

Follies and Monuments

* Roman

* Railways trains and trams

* Lighthouses

* Windmills

Gardens

* Walks

*Waterfalls

* Wildlife

* Historic Houses

* Living History

* Photochrome Archive

3D Photography

* Pinhole Photography

* Photographic Lighting and Reflectors

* Photography Filters

Index: A B C D E F G H I J K L M N O P Q R S T U V W X Y Z
---
The web address to go directly to the current update page is www.photographers-resource.co.uk/nl why not add this to your browser favourites.
We also have doorways that allow direct access to sections of the information for those with specific interests. These are shown in a panel at the top of this page.
Bookmark or share with others:-
|

facebook |

delicious |

digg |

reddit |

stumbleupon
'Add this' has many options, 'Bookmark' pop up bottom right of this page also includes quick email
---
Webmasters - you can link to individual pages if you wish. This system is designed to run with or without the frame set. To access the pages without the frame sets and get direct HTML addresses of pages use non frame indexing. At the top of each page a bar like the one below allows you access to the full Photographers Resource website if you landed on a page outside our frame system.
| | | | | |
| --- | --- | --- | --- | --- |
| | | Non frame pages.. | | |
The 'Bookmark' button's mouse over facility also has an email option that you can email yourself a link to the page.