Article
How to Photograph Waterfalls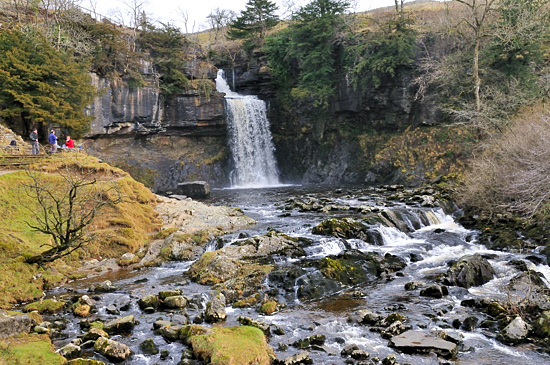 Thornton Force, Ingleton, Yorkshire


Ingleton Waterfall Trail - River Twiss, Yorkshire


A single waterfall can provide many opportunities, it can be photographed in different ways so that the water looks different, different perspectives, angles, and at different times of the year. So many variations are possible that we could turn waterfall photography into a major branch of study. We cover here in a number of pages:-
Waterfalls defined

Waterfalls - Their Effect on Us

How to photograph waterfalls - this page, which continues onto:-
How to photograph waterfalls 2 - shutter speed

and
How to photograph waterfalls 3

- exposure, white balance, perspective and more
Within our waterfalls section

you will find
lists of waterfalls for
England,

Scotland,

Wales,

Ireland,

as well as a listing of some notable waterfalls around the world.

We also have a growing collection of location guides on specific waterfalls.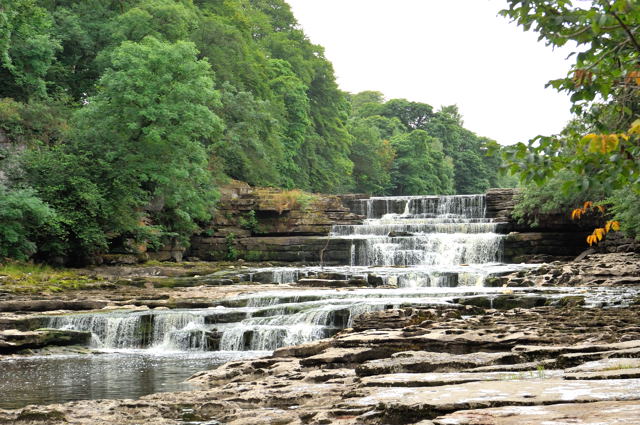 Aysgarth Falls, Yorkshire


In our Ghana Portal


we also have a waterfall list, and location guides.
A waterfall comprises of a drop in height and a flow of water, although this flow may be seasonal, and in most cases will vary throughout the year, or according to recent rainfall, or ice melting.
The drop in height occurs in many ways allowing falls to come in many different shapes, sizes and can be classified in many ways, the article Waterfalls Defined

explores this in more detail.
Water can have three forms, liquid, solid or gas, and all of these can be photographed, liquid water shown with time stopped so that every element is frozen in space, with a long exposure so that you get more of a flowing or fluid effect, or natural solid water, or ice as we know it, can be a solid lump but also produce icicles and frozen shapes as water is slowly frozen in a moving course. Take a look at photographing moving water

for how we might achieve these effects, and Water Frozen In Time

looks at how to freeze water with a project as an example of how you might go about it. Water as a gas is visible as it condenses, in mist, clouds, and other forms. Light passing through mist or spray can produce rainbows.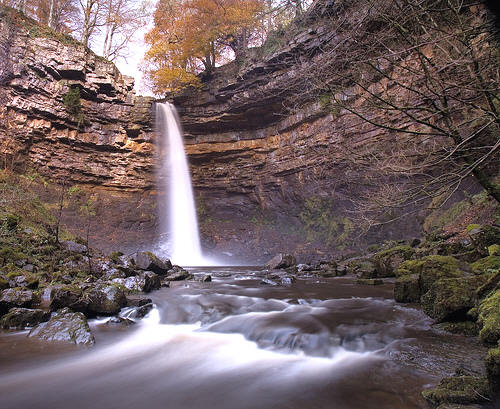 Hardraw Force, Yorkshire



Tim Parkin

Our motive behind taking a waterfall photograph may be to record its height, size, flow and perhaps to remind ourselves of the day we had there, but it is often in an attempt to effect emotions in the mind of the person viewing it. Some effects we can do will have or present an emotional affect all can see, while some others will have a greater affect on some people than others, having the greatest affect on those who have spent more time near waterfalls. If you have spent time near waterfalls and in particular larger waterfalls, then putting a good photo of a waterfall on your wall will have a subliminal affect on you whenever you see it, and on others who see it as well. Being near to waterfalls has a positive affect on our health and wellbeing, and any one who has been near one, will subconsciously be affected by the photograph of a waterfall bringing back to them some of these affects. See Waterfalls - Their effect on us.

You can see how businesses could benefit from having good waterfall photographs in a reception area and areas where people are being met.
The emotions that we can create are greatest where people have had the greatest experience of waterfalls, be it smaller ones or the life affecting experience of visiting one of the major waterfalls like Niagara Falls in the US and Canada. The amount of impact waterfalls have varies, and generally the greater the accumulated stress, the greater the effect of being near to one and therefore the greater the impact a photo of a waterfall will rekindle.

The ways we can vary the effect is by the composition, generally the larger scenic shot being more restful, while a section in close of rushing powerful water may stir up energy's in the viewer and provide some motivational force to them. Colour also affects peoples emotions and as water reflects colour and images can also have colour, including plants, scenery, reflections, and more there are a lot of affects possible.

We could photograph a waterfall with anything from a phone camera to a top DSLR, and there may be good reasons on occasions to use a camera rather than our best DSLR, for example if we have a waterproof point and shoot, we may then be able to go into the mist of the waterfall, or even into the edge of the water without fear of destroying the equipment. There may also be locations where we just cannot get to with a DSLR and a smaller camera may allow us to get the photo. It may be that the lighter weight would allow us to put it on a

Pistyll Rhaeadr, Llanrhaeadr-ym-Mochnant, Powys
pole and take a shot as if we were walking on the river below or looking over the top. Photographing out of passenger plane windows is easier with a compact camera, and you may have a small camera with you at times when you haven't got your full outfit with you. The ability to change settings to allow you to make choices is however very limited unless you have a top of the range compact or your DSLR available.
Next how to photograph waterfalls 2 - shutter speed

---
See Also the Waterfalls Section

for more articles on waterfalls and how to photograph them as well as links to listings of them by country and individual locations guides.