Feature
Dovecots, Doocots and Pigeon Houses
It is thought that dovecots arrived in the UK during the Norman period, and they were prolific from the 14th-18th centuries. They were a privilege of the landed gentry and in medieval times possession of a dovecote was a symbol of status and power and was regulated by law. It was a feudal privilege restricted to barons, abbots and lords of the manor. So the few remaining medieval dovecotes we see today, still standing or in ruins, are connected with manor houses, castles, parsonages or former monastic sites, like Penmon Dovecot

on Anglesey.
The Dovecote was the building built to house the doves and pigeons, usually placed at a height above the ground, with openings and provision inside for roosting and breeding. They were grand structures made of local materials and built to make a statement. In 1600 Oliver de Serres wrote in his book on agriculture that 'no man need ever have an ill-provisioned house if there be but attached to it a dovecot, a warren and a fishpond wherein meat may be found as readily at hand as if it were stored in a larder.' Many dovecotes were built or positioned with the food providing buildings of the time, such as granaries, barns and on some big estates they may also have been put in the Deer Park.
They are also known as a pigeon house, culvery, culverhay or culverhouse (culver being Anglo Saxon for Pigeon), Doocot in Scotland, Cholomendy (meaning 'dove house' in Welsh) and columbarium in Latin.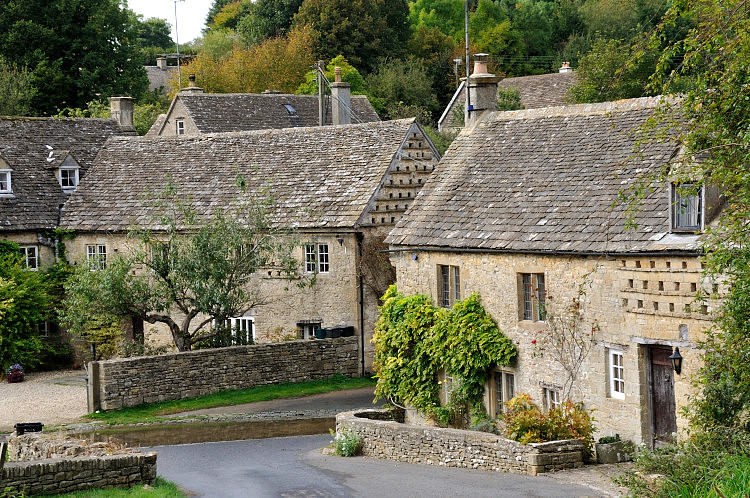 Duntisbourne Leer Farm Dovecote, Gloucestershire


Their purpose was a functional one, to house pigeons or doves. For centuries pigeons and doves were an important food source and were kept for their eggs, meat, dung and feathers. Their eggs and meat obviously being a food source particularly needed during the winter months when cattle, pigs and sheep were not able to be slaughtered. Their feathers and down would be used to fill pillows and bedding. The dung however had a number of uses, it was a very good fertilizer but it was also used in the tanning industry to soften leather, and in the early 17th century it was a major source of salpetre used in the manufacture of gunpowder.
Pigeons were low maintenance and cheap to keep in that once the dovecote had been established they would fly off daily and feed on surrounding fields. Very few owners fed them only during bad weather when it would be difficult for the pigeons to forage for themselves. The only jobs required were to clean out their dung and collect the eggs or young. Pigeons can have two young every couple of months and the young are fed by their parents for the first 4-6 weeks of their lives. At 4 weeks the young are adult size but are not able to fly because their feathers have not fully developed, so it is at this age that they were usually harvested for food.
For a more detailed look at the history of dovecotes and why pigeons/doves were important take a look at Dovecots.

They can be found all over the country in various locations and we have produced three listings of those we have been able to identify so far, and they can be found in the following pages:
We have also created a number of Location Guides, show a variation of styles and designs.
In Scotland they were very popular and because there were many smaller estates they were prolific in some areas such as Fife and East Lothian having about two thirds of them. In Scotland they are referred to as a 'Doocot'. Scottish Doocots

were primarily of two designs the 'beehive' which are circular and tapered from the bottom and the 'lectern' which was square or rectangular and usually having one or more chambers, and good examples of these are still standing today, although there are many more in ruin.
In other parts of the UK they come in all different shapes and sizes. Early ones were mainly circular but some were also square or rectangular. Some areas took on certain characteristics such as the Black and White timber framed ones in Herefordshire or the square gabled designs of Gloucestershire, but although they had this base shape they are by no means designed to a set pattern and each one is individual, in fact it is probably difficult to find identical designs. By the late 17th and early 18th century square and rectangular designs became outmoded in favour or octagon and occasionally hexagonal designs. By this point their practical side was becoming less important and they were becoming more of a fashionable decorative feature to include in a parkland landscape or garden, effectively a folly. So you may find some also listed within our Follies & Monuments Section.

Dovecotes were not only free standing structures they were also incorporated into other buildings such as castle towers, church towers, barns, etc and some were created out of existing buildings that no longer had a function such as windmills. As dovecotes became less popular some of them took on new functions such has being used for garden storage sheds, those near a river or stream may have become a watermill and some others have been converted into houses for us.

Inside their walls would be covered with nest boxes, smaller ones having around 500 but larger

Hawford Dovecot, Worcestershire
ones could have between one to three thousand. In the majority of the circular ones there would also be a 'potence'. This was an early labour saving device. This structure consists of a revolving wooden pole, mounted on a plinth, with arms onto which ladders could be attached and suspended a few feet off the ground. It was used to enable the eggs and squabs to be collected. Dovecote Construction

takes a more detailed look at this and how they were constructed.
Although the grand structure that the dovecote had up to the 19th century is no longer built, there are some 20th century structures which are built by pigeon fanciers. Many of these will look like a garden shed and don't take on the grandness of those of the past, usually made of wood.
There are also still many being made and erected in gardens today throughout Britain as decorative features and are usually small wooden structures that can be incorporated into our much smaller gardens. In many cases those that have been stocked with a few birds are generally using the white dove variety rather than the plump edible variety of the past.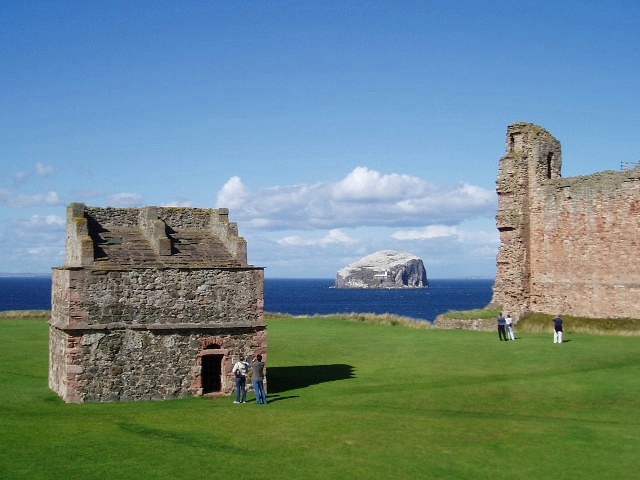 Tantollen Doocot, East Lothian Scotland



Photo by Eileen Henderson

In the outer bailing of Tantallon Castle and with the island of Bass Rock behind.