Dingle Nature Reserve

aka Nant y Pandy Nature Reserve

Llangefni, Anglesey

Location Guide
This 25 acre wooded valley is in Llangefni. It is a steep sided gorge formed by glacial meltwater during the last ice age and bisected by the River Cefni. Most of the reserve is ancient woodland, which is where Dingle comes from as it means 'steep wooded valley'. It took on this name in the 1830's. By some, locally, it is known as Nant y Pandy, "brook of the Fulling Mill", this refers to the old wool processing plant situated upstream. Another local name is Nant y Dilyw, meaning "Valley of the Deluge".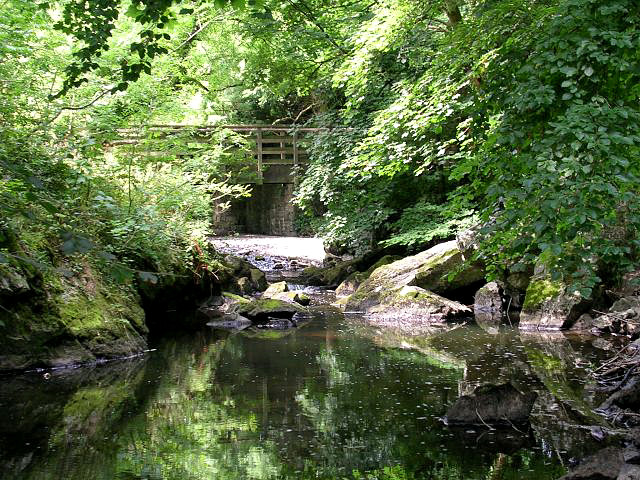 Bridge over the Cefni

Photo by Keith Williamson

The Dingle extends from Cae Pandy (Pandy Field) in the West to Pont Plas (Mansion Bridge in the East, with one of the oldest sections of woodland on Anglesey, Coed Plas (Mansion Wood) extending eastwards behind Llangefni Church. The part of the woodland in the Dingle is three quarters of a mile long and three quarters of a mile wide and rises to 200ft above sea level at its highest point.
Its ancient woodland is dominated by sessile oak, ash and wild cherry, and is a carpet of bluebells

during May. Other parts are mainly sycamore and the occasional ash tree with an abundance of ferns and mosses and woodland flowers, such as wood anemones. While Coed Plas, behind the Church, was planted with sweet chestnut, beech and Scots pine, and has a carpet of wild daffodils

in spring. Other flowers than can be found in the woodland during spring include primrose, wood anemone and lesser celandine.
There is a circular trail of 1.5 miles and at a leisurely pace will take around an hour to complete. It starts and finishes at the car park next to at St Cyngars Church in Langefni. There is a PDF guide

which details this and points out 12 significant spots along it. For the first 7 points a wooden boardwalk has been created winding its way along the River Cefni, which allows access to this section of the reserve, at all times of the year. There are also bridges which cross the river at various points. For the occasional rest you could use one of the sculpted benches or picnic tables.
Dragonfly Sculpture
Photo by Eirian Evans

There are also various sculptures placed around the reserve and these include a huge dragonfly, giant seed pods and split oak timbers revealing the poem Nant y Pandy, by local poet Rolant o Fôn.

Seed Pod Sculpture
Photo by Eirian Evans
Wildlife

It is home to a variety of wildlife which can be seen throughout the year including:

In the woodland

Blue Tits
Great Tits
Ravens
Buzzards
Woodpeckers
Adders
Lizards
Bats (8 out of 16 British species can be seen here at dusk)
Tawny Owl can be heard, and often seen, in the woodland at night.

On the river

Moorhen
Dragonflies
Damselflies
Herons
Kingfisher
Dipper
Frogs
Newts

On the Broadwalk

Dingle Entrance

Photo by Eirian Evans
Other wildlife includes:
Many butterfly species, such as the Gatekeeper and the Speckled Wood, as well as moths. There are also hoverflies, bees and wasps, beetles, slugs and snails,

spiders, woodlice, and many other small creatures. Fish like trout, roach and perch may be seen in Llyn Pwmp, and sea trout are occasional visitors, as are eels in the river. Mammals are much more elusive but foxes are present as are Bank vole and wood mice who leave signs of nibbled hazel nuts to show their presence.

The Old Mill Pond

Photo by Stephen Roddick

---
Location: Dingle Nature Reserve, Llangefni, Anglesey

Grid Reference: SH456760
Ceremonial County: Anglesey

Map Link: StreetMap

Aerial photo: Google Aerial

Getting there: From A55 take the exit for Llangefni taking the A5114 into the town centre and follow the brown tourist signs

Access: The trail is suitable for wheelchair users and is possible with pushchairs. There are two car parks on the edge of the Dingle, one next to the church.
Website: www.anglesey.gov.uk/doc.asp?cat=1251
Other Useful Websites: PDF Guide to The Dingle Visit Anglesey Geograph
Email:
Address: The Dingle Local Nature Reserve, Llangefni, Anglesey
Postcode: LL77 7QD
Telephone: 01248 752428
Opening Times: All Year

Charges: FREE but there may be parking charges in the car parks.

Nearby Locations: Llangefni Windmill
Other Location Pages:
Other Relevant Pages: Anglesey Attractions Anglesey Attractions Map

Notes:
Please let us know any other information that we can add to the Grid(s) or page and any errors that you discover. Before making a long trip to any location it is always wise to double check the current information, websites like magazines may be correct at the time the information is written, but things change and it is of course impossible to double check all entries on a regular basis. If you have any good photographs that you feel would improve the illustration of this page then please let us have copies. In referring to this page it is helpful if you quote both the Page Ref and Topic or Section references from the Grid below. To print the planning grid select it then right click and print the selected area.
Please submit information on locations you discover so that this system continues to grow.