Photographic opportunities coming up
Plus we add cathedrals and major churches to the abbey section.
Getting out to take exciting photos
Into a new month, and autumn feels like its arrived, but hopefully there will be some days we can still get out to take photos. We have moved the photographers diary forward and also added October. Take a look at what's on, there are quite a few opportunity days coming up, and if you can get the planning right, and weather lines up perhaps get some interesting photos.
Starting this week on the 6th, for the weekend, Doors Open day in Scotland, for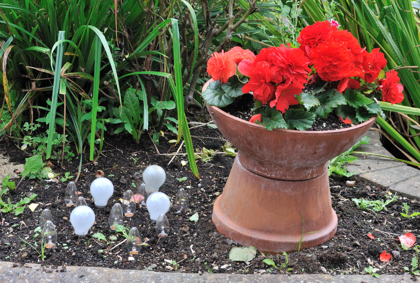 Wrong season for bulbs !
May be global warming or cooling.
(Mouse over to see closer view)
4 days, from the 11th its Heritage Opens days in England, Wales and Northern Ireland, and on the 20th Open House London. This is an opportunity not only to go into many places for free that normally charge, but also to get access to very many places that are not normally open to he public. There are a vast number of places open so try to make the most of any travelling by seeing a number of places in a day. See the diary for links for more information. With many of these places it doesn't matter if it rains.
There are also over the next two months, several major re-enactments events, that are well worth considering, and we will soon be reaching the point where ploughing matches, and the fire festival season comes around again. We will also be getting autumn colours, and some trees we have seen are starting to change now.
Although we are finding a lot for you to photograph to add to the diary, its possible that on the local news or local press you may spot something we've missed, if so please let us know even if its now gone past, as we can then watch for it another year. We don't want to put in every small carnival, what we most want to find are the special and unusual events that are both different and great to photograph. The summer may be just about over, but we still have loads for you to see and do, so take a look at the diary pages.
---
Continuing from last week.......
Following on from lasts weeks theme of Abbeys and Monasteries, looking at the remains of religious buildings, this week we are adding some that are still complete and doing nicely, there's always been a lot of money in religion and nothing seems to have changed. We have a List of cathedrals and other substantial churches in current use,

many of which are the church buildings from older monasteries reused. Today of course they are major tourist sites as well as places where some services and pageantry takes place. Many can also be hired for concerts or movie filming. Today most welcome photographers, and only two London ones we have identified as banning photos being taken, so they can sell you postcards. This listing identifies all Anglican ones, with links to their websites and Wikipedia entries, as well as in some cases other information. We have a range of location guides covering a range of these from large well known sites, to abbey churches, and as usual these are linked from the list in the left hand column. We have a new article this week looking at How to photograph an abbey or cathedral that is still in use.

Last week we covered How to photograph a derelict abbey.

The task is often quite different, the most obvious difference being in one case often you have too much light or contrast, and the other with their roof on, often its very limited.
In addition we have indexes for the English counties showing every abbey or monastery that we have identified as existing, what happened to it and what remains, if any, there are now. There are a lot of them, and far more remains than you might expect, we have graded many of the sites by letters giving some idea as to their state. We are still working on the Welsh and Scottish counties, which is also holding up the alpha list of all sites. This topic has turned out to be the most time consuming to index of all the featured items we have taken on to date, its not that we can't find information, there is a flood of it, and far more than we have used, but with places changing names and date inaccuracies actually matching this up across the country is a major task, plus there's a lot more history with abbeys and the like that's been documented. Most of its done now, and we can start looking at the next featured topic.
From here we will be able to add a few more location guides from time to time to expand our coverage.
Over the last month knowing, that we were going to cover abbeys, ruins and then cathedrals, we have been out and photographed a number of ruins and a number of cathedrals in use. With the cathedrals we also came across both the oldest working clock and second oldest, saw a copy of the Magna Carta, and have been able to relate much of what we have discovered in the ruins to the cathedrals. Of course these were never in isolation, so as we looked at Roman topics and castles, and compared it with information on Celtic Christianity and earlier beliefs, stone circles and other earlier sacred places, collecting several thousand photos along the way. One of the great things about producing this newsletter and website is that it provides the motivation to get out and take photos and to follow up, researching in so many areas, although we don't use probably more than 5% of what we discover.
Next week we return to looking at photography topics.....
---
Printer profiling packs
We have also completed the revision of the printer colour profiling pack, this pack at present is only available to clients who have had training from Camera Images or Photography Skills. The reason for this is that you may need support if you have difficulties and these clients are already getting help and support routinely. The pack comprises of a disk, booklet and 3 vouchers. Using the booklet they can see how to print out a special test file, that they send to us, and what to do with the profiles that they receive back. The vouchers allow them to get three profiles as and when they like, refills of just vouchers are also available. The revision was necessary to bring it up to date for use with Nikon CaptureNX2, and the latest revision of Nikon ViewNX, it already covered the latest version of Photoshop CS3 and Elements.
Colour profiling allows you to correct the printing process for your combination of printer, paper and ink to produce perfect colours. Its a process that is essential to get quality colour output. You can produce profiles by buying specialist equipment, but as most people don't need to produce more than a few profiles, using the post in service saves them most of the expense. You need one profile for each combination of printer, ink and media that you use. Media being specific make, brands and surface of paper that you use, you don't need one for each size. If you are a Camera Images or Photography Skills client, and want to use this then either look at the customer services area of the main Camera Images website, or call them.
Screens also need profiling but this is done with a far cheaper and simpler device and as you need to redo this occasionally, you are often better doing this yourself. Some clients bring their computer and printer with them when they come for training and get it all done while they are with us at no additional cost, and probably their camera sensor checked for dust and cleaned as well if necessary.
---
How do I get Photoshop to read my New camera RAW files ?
We have updated a previous article to include the latest information on getting Photoshop CS3 and Elements to read RAW files on the latest cameras. Click here

to read this.