Flatford Mill

Flatford, East Bergolt, Suffolk

Featured Location Guide
Flatford Mill was owned by Golding Constable, the father of John Constable and is the location around which at least 12 of his major paintings were based. It is on the River Stour in Suffolk near the Essex border.
Today the mill is used as a Field Study Centre for artists, but the thatched Bridge Cottage contains an exhibition on John Constable and a number of the painting locations that are easy to see, including The Hay Wain,

and Willy Lotts house, Boat Building,

and a number of others. You will find there is too much long grass/reeds and growth on tress to allow you to see many of the other views as they would have appeared to John, but you can work out where he was stood and see at least some parts of the same scene.
Flatford Mill and the grounds around it is owned by the National Trust, and they have a large car park nearby. There are footpaths along the River and bridges allowing you to make a circular trip covering some of the slightly further away locations if you wish. The mill area itself can get quite crowded at some times so if you can avoid the main tourism season and visit mid week, that way there will be less people present. Away from the mill there are far fewer people and when you explore some of the locations more than 100 yards from the mill you will find even at busy times you are often on your own.
John Constable produced both sketches and large oil sketches at the locations and then produced his exhibition paintings at his studio in East Bergolt, which is now Moss Cottage, and some in a studio he had later in London.
I have also produced 'then and now' location guides for many of the painting locations here and others connected with John Constable, see John Constables Painting Locations Then and Now

I have also produced an article on John Constable in John Constable Painting Locations.

Paintings connected with the Mill and area nearby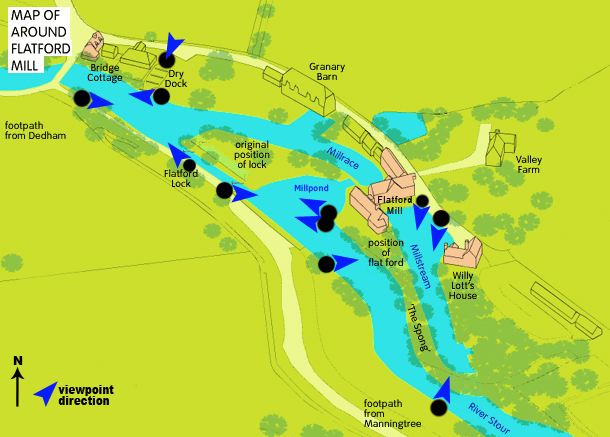 The map above shows some of the paintings in relation to the mill, and the grid below some of these paintings, clicking on the points on the map or images below will take you to location guides for these.
Google Streetview allows all the lanes around here to be explored, just select the Google map link below and drag the orange man on to the road of interest. You will also see a number of points around the mill and along the river marked, these are points that have photos available. Google Streetview at end of roadway by Bridge Cottage.
---
Location: Flatford Mill, Flatford, Suffolk

Grid Reference:

TM075333

Ceremonial County: Suffolk
Aerial photo: Multimap Google

Getting there: Flatford is south of East Bergholt off the B1070. Pay and display car park about 200yards from the cottage and mill.

Access: On foot, slightly downhill from the car park.
Website: Flatford Bridge Cottage NT
Other Useful Websites: Flatford Mill Field Study Centre
Email:

flatfordbridgecottage@nationaltrust.org.uk

Address:

Flatford, East Bergholt, Suffolk

Postcode:

CO7 6UL

Telephone:

01206 298260

Opening Times: see NT page for Bridge Cottage for opening times. Site is open at all other times.

Charges: None for cottage or location, but car parking charges including NT members.

Nearby Locations:

Other Location Pages: Then and Now Locations Flatford Mill Then & Now

John Constables Painting Locations Then and Now

Other Relevant Pages: Then and Now Photography John Constable Painting Locations
Accessibility: There is a separate blue badge car park, on lower ground 50 yards from the cottage, and its nearly level from here.

Level entrance to Cottage, shop and tea room. Uneven floors and low beams in cottage. WC at information centre (next to blue badge car park). Coach park is 250 yards away and cannot get closer to drop of people. Some paths are tarmac'd but fields with gates/stiles beyond

. See NT page

for more information.

Notes:
Please let us know any other information that we can add to the Grid(s) or page and any errors that you discover. Before making a long trip to any location it is always wise to double check the current information, websites like magazines may be correct at the time the information is written, but things change and it is of course impossible to double check all entries on a regular basis. If you have any good photographs that you feel would improve the illustration of this page then please let us have copies. In referring to this page it is helpful if you quote both the Page Ref and Topic or Section references from the Grid below. To print the planning grid select it then right click and print the selected area.
Please submit information on locations you discover so that this system continues to grow.