Uses of Garden Photography
For many of us the desire to take photographs is either for our own pleasure, to remember places or situations that we have experienced or as part of the development and improvement of the skills.
We can look at them on our computer screens, produce slideshows, add them to our websites, produce our own calendars, prints, table top books and more all without a desire to create an income from it.
Some of us would however like to make our interest pay it's own way, at least cover our costs, or allow us to expand the range of equipment that we have available or perhaps improve our skills via training etc. Below I have highlighted a selection of uses for garden photography that would also produce an income, large or small.
Saleable Prints including Limited Editions
Go into any home interior shop or even your local high street or supermarket you will find canvases and prints of floral images. The thing with this is in the market research, knowing what the market wants now and what next seasons trends might be. Technically of course the images selected have to be very good, and as art images to put on a wall people have to find them desirable for some reason, and want to buy them. This is the market where quality and marketing counts. You can make money with either but more when applied together.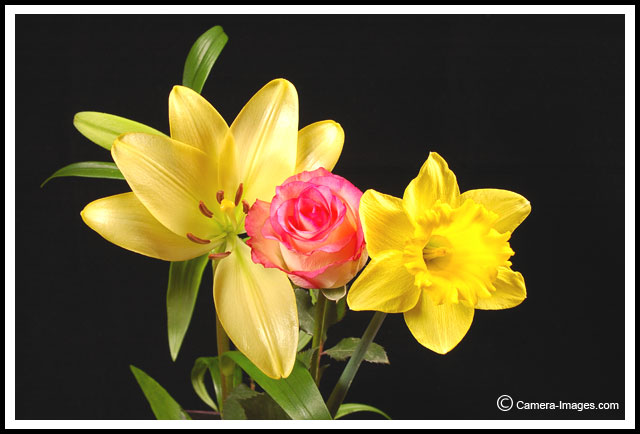 Three Heads are Better than One, Limited Edition Print by Tracey Park

Picture Libraries
There are many Picture Libraries some are specialists, whilst many are more generalised, and many of these have an online presence. Picture libraries take on images and sell them onto picture researchers, editors, advertising agencies and many others for a licence fee. There are a number of different types of licence each having a different sale rate, as the photographer you get a percentage of this fee and this percentage varies across the different libraries. See our article on Stock Photography

for more details on how to go about this and what you can expect and also the article which specifically looks at Rights Managed Images

(images being sold for a fee), to get an understanding of what to expect and what you should do.
Although not a picture library, a presence on websites like Flickr, will help enhance your potential market. For example on Flickr you can copyright all your images and using their contact system you can set up a way for people to either be able to get to your website, to link to a picture library website you are signed up with like Getty Images, or to contact you through email. There is no payment system on Flickr so you are not able to use it as a picture library. They are also signed up to the Creative Commons

system, so having some of your images available under this method could bring potential clients to see your other copyrighted images and then contact you.
Magazine Articles

The magazine market is large with around 8000 magazines across all topics and genre. Going to a local bookshop or library you will find publications that give lists of these, like the annual publications Writers & Artists Year Book and the Writers Handbook. Doing some research through these I identified 19 magazines which specifically take garden featured articles, as well as pictures of plants and all items horticultural. Some of these publications are aimed at professionals that work in these fields and as in all cases they will expect you to know your subject and be able to give details like the names of any plants that you submit.

Remember to study copies of the magazines you are interested in submitting to, look out for such items as what type of articles do they have, are they predominantly descriptions or are they step-by-step or 'how to' type articles. We have more information in additional articles on how to go about getting photographs into magazines and for pointers on how to create an illustrated article, which you may find helpful.
The following is a list of these we have created pages for and by taking each of the individual hyperlinks this will take you to our page with further details:
Greeting Cards and Postcards
Greeting cards is a big industry and there are a number of publishers and you will be able to find some of these in The Writers & Artists Year Book and The Writers Handbook. Existing Greeting Card publishers like Hallmark pay between £70-£300 per design, but from what I have read it is hard work and they are quite picky. However do your research try to find a gap in the market, and try approaching small publishers who may not pay as much but are willing to give your work a go. Some garden photographers I know have specialised in this area and have produced greeting cards and note cards for a particular tourist attraction using images taken at their venue.
Or alternatively you could use your photos to produce postcards which have many uses. Many tourist attractions, places and locations sell postcards; they are also sold in village post offices/shops, newsagents, shops. They are a cheap form of advertising and particularly visitors to tourist spots find they are a cheap option to get a reminder of where they have visited.
You could approach the gardens you visit and ask if they would like to have some of your images produced as postcards, but do your research first about what they already supply and where you think a gap in the market might be. Also let them see some of your good quality work to entice them to take up your offer. Having sample images on a CD/DVD or USB pen stick device will allow them to see the images on their computer screen, which when backlit can have an enormous impact on the image, but beware different screens, particularly ones that have not been colour managed

will show different results. So if you want to be in more control then put some images on a laptop or an iPad, if you have one, and use this to show them how good they look. However it is also worthwhile to have a few samples made up and printed in postcard size so that they can get an idea of what the image will look like presented in it's final form. There are a number of postcard printers who will print in small quantities to allow you to do this. A List of Postcard printers

can be accessed from here.
Calendars
Another area where you could use your garden and plant images to generate and income. Every year millions of calendars are sold throughout the world and each one requires photographs. There are a number of routes you could investigate here, one is to market your images to existing Calendar Publishers, but this can be difficult as they generally use picture libraries, however nothing ventured nothing gained. Selling Pictures to Calendar Publishers

will give you some ideas on how you might go about this.
The other route is to self publish, and this can be done in two ways, either you take all the risk and produce calendars that you sell through shops and other establishments that you have identified sell them. Or you join up with a tourist attraction, company, or charity and produce a calendar for them. Take a look at an income from Calendars

for more on the options available via the self publish route and the sorts of returns you could expect, and Charity and Fund Raising Calendars

to find out more on the charity route.
We have a number of articles covering calendars and can be accessed via Calendar links.

Tourist Attractions Merchandise
Tourist attractions today rely just as much on the income they get from their merchandise they sell in their shops as they do the entrance fees. Go into any tourist shop and you will find tea towels, mugs, jigsaws, posters and prints, cards, children's toys, clothing and more with their name, images or logo on. Perhaps a garden venue would like to have good quality photographs of their highlight/signature plants or garden to put on their merchandise, or to allow them to extend their current range into other areas. Remember at the end of the day like you they want an income and opportunities and ideas that allow them to do this will appeal to them, and how good will you feel seeing your photograph being purchased by someone who enjoyed what they saw.
Whichever market you decide to target, market research is the key. Get to understand what your customer wants, look out for opportunities and gaps in the marketplace, but remember to continue to enjoy your photography, passion is what will give you a good saleable image.
For more on how to get an income from your photography take a look at our Photography Business

section.
As well as garden vistas or plants,
garden features can also make an attractive postcard.
---
See Also: