Southwold Lighthouse

Southwold, Suffolk

Featured Location Guide
Aerial photo by Marinas.com

(More images available)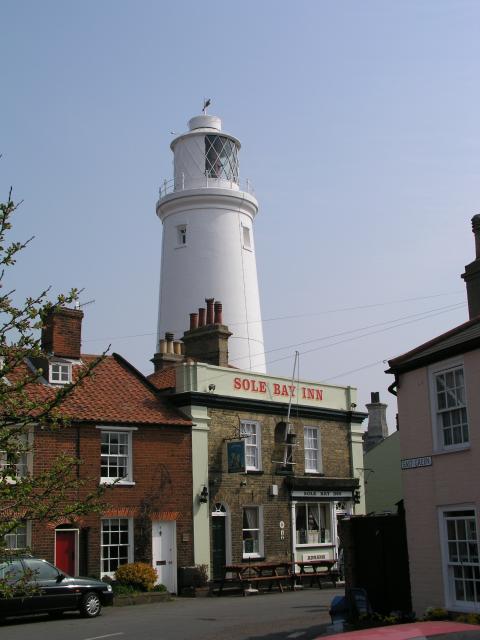 Photo from Geograph

Southwold Lighthouse is a coastal mark for passing shipping and guides vessels into Southwold Harbour. The lighthouse is situated near the centre of the seaside resort of Southwold, midway between Lowestoft and Orford, the round white tower stands amongst rows of small houses.
In the 19th century the east coast was a dangerous area, in Southwold's Bay records list 283 shipwrecks

in the 19th century. Local fishermen formed Beach Companies to salvage valuables from sinking ships and to pick up survivors. Alongside this private enterprise, volunteers founded the Southwold Lifeboat Society in 1840.
The need for better lights was part of the solution and while these had been being added, there were still problems.
3 lights along this coast, at Orfordness to the South, had been condemned or lost due to coastal erosion, so they put initially a temporary wooden structure on the beach area at Southwold and set about building the current lighthouse, some way back where it would be safer from erosion.
Design and planning for the construction of Southwold Lighthouse began in 1887 under the supervision of Sir James Douglass, Engineer in Chief to Trinity House.
Southwold's first light was a temporary beacon, a wooden structure, first lit on 19th February 1889, located at the southern end of the beach, on California Sands, opposite the building in Ferry Road which is now a restaurant. It was welcomed by the town with some excitement with the band playing the National Anthem at its inauguration.
Building work on the permanent light started in May 1889. The plot, beside the coastguard station was hailed by the press as "very advantageous... the smoke from the town will not obscure the light and its nearness to the cliff must make it very prominent all along the coast."
Building it so far back from the front would give it permanence, and unlike some others, where housing later came in front we can see from the old Photochrome, from around 1905, that the beach area and housing on the sea front was very well established.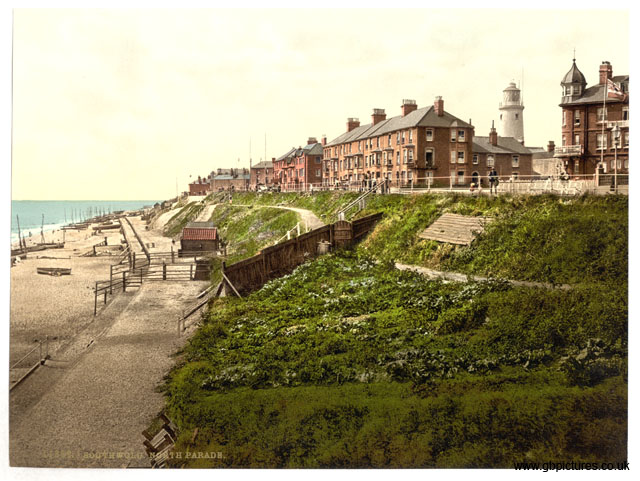 Photochrome from Camera Images GBPictures archive, taken around 1905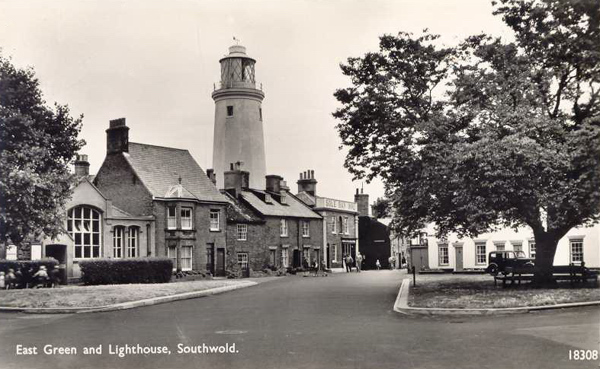 Postcard photo from later, probably 1930's or 40's.
The local Mayor, Mr Eustace Grubb, laid the first of 1,500,000 half bricks which were delivered via Halesworth on the Southwold railway. It caused an enormous headache for both the railway and the local coal merchant, Thomas Moy & Co, whose combined fleet of just 15 goods wagons ran a frenzied shuttle service.
10 months later, the lantern had to be installed. It weighed eight tons. It arrived from Harwich in two sections in two of Thomas Moy's wagons.
I have been told that when the low light at Happisburgh Lighthouse

was being demolished, ahead of the building falling into the sea, the lantern and optic were removed and used in the Southwold Lighthouse that was then being built. If you compare the lanterns on this and the Happisburgh lighthouse you can see they could have been a matching pair.
The present lighthouse came into operation on 3rd September 1890. Just six days later, as a result of the new keepers' inexperience, the six-wick Argand oil burner burst into flames and was destroyed. It was replaced and the keepers 'retrained'.
The light was originally provided by an Argand burner, this was replaced by a Matthews incandescent oil burner in 1906. A Hood 100mm petroleum vapour burner was installed in 1923 and remained until the station was electrified and demanned in 1938.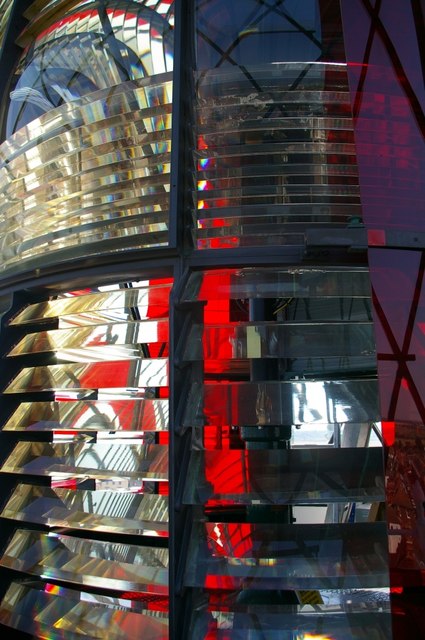 Photo by James Yardley

Over the years the lights shone have changed, originally 'group occulting', 2 every 20 seconds, then from 1938 it became 'group flashing', 6 every 20 seconds changing in 1965 to 'group flashing', 4 every 20 seconds.
Today two red sectors mark shoals to the north and the Sizewell Bank to the south, the main navigation light is white. Red sectors are visible over land north and south for 15 nautical miles, while the main white 1.50w light is visible for 17 nautical miles.
A local Attendant visits the lighthouse regularly to conduct routine maintenance.
You can visit the lighthouse, its exhibition and climb the tower. Tour duration approx 20 minutes. See the grid below for information.

Photo by Trish Steel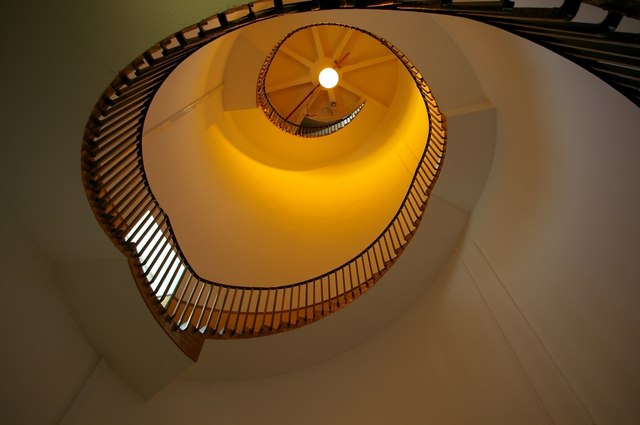 Photo James Yardley

And Nearby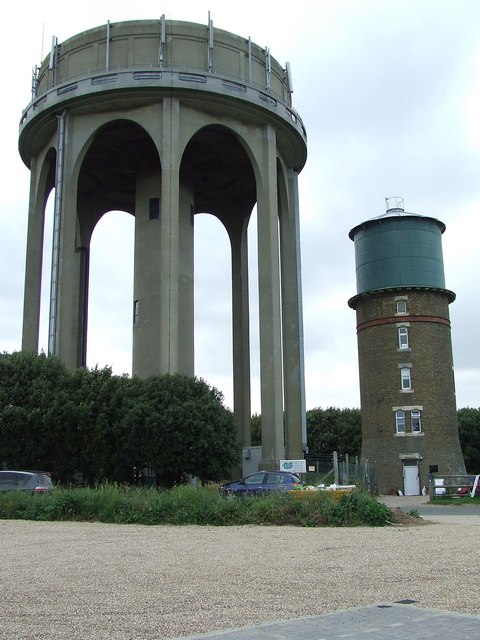 Photo by Keith Evans

Water Towers, Southwold Suffolk.
The smaller is the old tower that I now believe has been converted into a home.
Water Towers at grid ref TM501762. Get-a-map link

---
Lighthouse information Grid

Name:

Southwold Lighthouse, Suffolk

Current status:

Lighthouse is in use, Open to visitors - see below

Geographic Position:

52° 19'.60 N 01° 41'.00 E

Grid Reference:

TM509762

Ceremonial County:

Suffolk

Appearance:

Round brick tower with lantern and gallery, painted white, attached to 2 storey keeper's house

Map Link:

Aerial photo:

Marinas.com (good) Multimap Google satellite view

Other photos:

Originally built:

1889 - temporary wooden structure

Current lighthouse built:

1890

Height of Tower:

31m 102ft

Height of light above mean sea level:

37m 122ft

Character of light:

White And Red Group Flashing 4 Times Every 20 Seconds

Character of fog signal:

Sounds once every 60 seconds

Range of light:

White Main Light (220°-001°) 17 nautical miles
Red Light (204°-220° & 001°-032.3°) 15 nautical miles

Owned / run by:

Trinity House

Website:

Other Useful Websites:

Wiki

Routes:

Notes:
.
---
Lighthouse Visit Planning Grid

Name:
Southwold Lighthouse, Suffolk
Grid Reference:

TM509762

Location:

Getting there:
Access:

Parking:

Parking is available on public roads close to the Lighthouse. Car parks are also located at the pier and harbour.

Address:

Postcode:

Telephone:

01502 724729 - Southwold Tourist Information

Email:

Opening times:

See Trinity House page of when this is open and

Trinity house Lighthouse closure page

Charges:

Adults £3, Child (up to 16) £2, Family (2+3) £8

Best Times to Visit:
Check opening, access and tide times.

Facilities:

Things To Do, See and Photograph:

Lighthouse, coastal, wildlife, plants, possibly ships.

What to take:

Shoes suitable for climbing many steps, small bag with necessary items, Camera, selected lenses and filters.

Nature highlights:

Coastal birds

Photo Restrictions:

None Known

Other Restrictions:
None Known
Nearby Locations:
Other Relevant pages:
Please let us know any other information that we can add to the Further information and Planning Grids or page and any errors that you discover. Before making a long trip to any location it is always wise to double check the current information, websites like magazines may be correct at the time the information is written, but things change and it is of course impossible to double check all entries on a regular basis. If you have any good photographs that you feel would improve the illustration of this page then please let us have copies. In referring to this page it is helpful if you quote both the Page Ref and Topic or Section references from the Grid below. To print the planning grid select it then right click and print the selected area.
Please submit information on locations you discover so that this system continues to grow.