Souter Point Lighthouse

aka Marsden Lighthouse

South Shields, Durham

Featured Location Guide
Aerial Photos above and below by Marinas.com

(more images are available)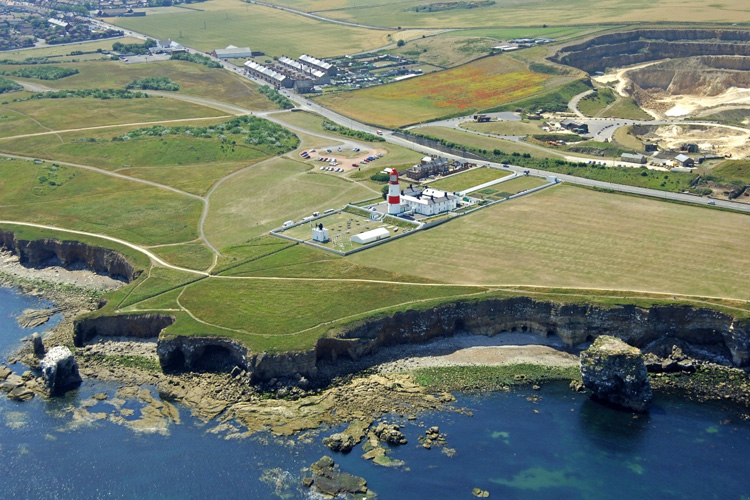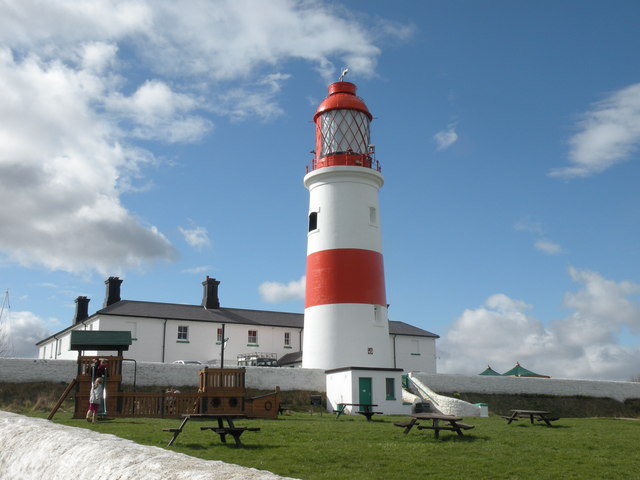 Photo by Malcom Tebbit

The lighthouse is located on Lizard Point at Marsden, but takes its name from Souter Point, which is located a mile to the south so as to avoid confusion with the Lizard Lighthouse

in Cornwall. It is also known by some and can be seen on some old postcards as the Marsden Lighthouse.
The original plan was to put the lighthouse at Souter Point, but it was felt that Lizard Point offered better visibility, as the cliffs there are higher.
This area was a hazard to shipping. In one year alone, 1860, there were 20 shipwrecks due to the dangerous reefs directly under the water in the surrounding area. This contributed to making this coastline the most dangerous in the country with an average of around 44 shipwrecks per every mile of coastline.
To avoid this and warn of the reefs, it was decided to put a lighthouse here. It was designed by James Douglass and opened in 1871, Douglass also was to go on and build the final 4th version of the Eddystone Lighthouse.

This lighthouse was decommissioned in 1988, but continued to serve as a radio navigation beacon up until 1999 when it was finally closed.
The Light, and Steam Engine
Souter Lighthouse was the first lighthouse built to use electricity and the first to use alternating electric current, the most advanced lighthouse technology of its day. The first to use electricity was the South Foreland Lighthouses


in December 1858, this is also owned by the National Trust now.
The 800,000 candle power light was generated using carbon arcs, (the standard filament bulb would come later), and this light could be seen for up to 26 miles. The electricity was generated using a steam engine located in the engine house.
Fog Horns
When the lighthouse was first built, the foghorn was a single horn of a clay and iron pipe . This was replaced after a few years by twin horns to the same design, angled so as to spread the noise up and down the coast. By World War II, these had been superseded by twin Rayleigh trumpets. In the early 1960s, these in turn were replaced by the present day diaphone fog horns. A reminder of their predecessors can be seen at the seaward corners of the foghorn station.
The horn produced a five second blast every 30 seconds in poor weather up until 1988, when the lighthouse and foghorn were taken out of service by Trinity House.
Today there are demonstrations of the foghorn, but its not clear when.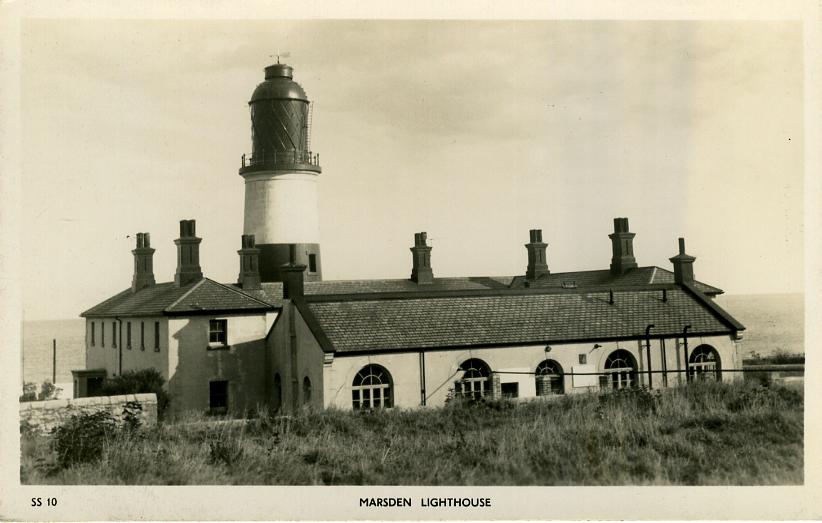 An old postcard view of the lighthouse
The lighthouse today
Since 1990 it has been owned by the National Trust and open to the public, the tower, lighthouse's engine room, and keeper's living quarters are on show. One cottage forms this museum and other facilities, while two more of the former lighthouse keepers' cottages are used as National Trust holiday cottages.
Its a climb up the 76 steps to the top for spectacular views, but for those who may not be able to climb it they have CCTV footage that shows views from the top on the ground floor.
The foghorn remains in working order and is sounded on special occasions throughout the year, including the monthly Engine Room Day, which is held at the lighthouse during the summer months, but may have more regular demonstrations now.
The lighthouse is said to be haunted and has even featured on British TV's Most Haunted ghost hunting programme.
To the north, The Leas has two and a half miles of beach, cliff and grassland with soaring seabirds and, to the south, Whitburn Coastal Park provides coastal walks and family trails.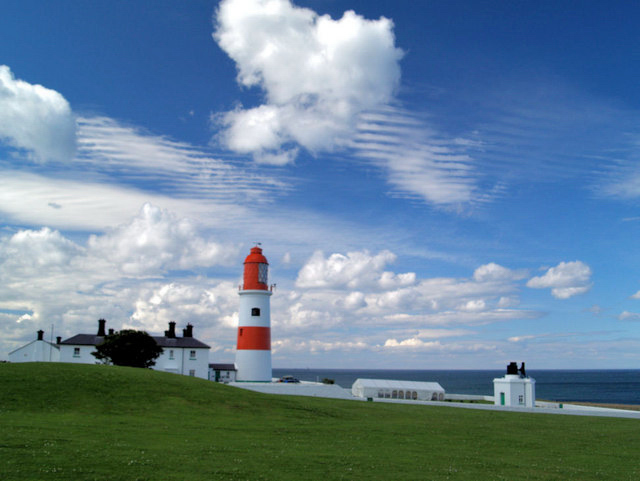 Photo from Geograph

---
Lighthouse information Grid

Name:

Souter Point Lighthouse, South Shields, Durham

Current status:

Open to visitors - see below inactive since 1989

Geographic Position:

Grid Reference:

NZ408641

Ceremonial County:

Durham

Appearance:

Tower lighthouse with red band and lamp house.
Brick tower with lantern and gallery, attached to keeper's house. Lighthouse painted with red and white horizontal bands.

Map Link:

Google Map

Aerial photo:

Marinas.com Google satellite view

Other photos:

Geograph (many photos) Photo Photo

Originally built:

1871

Current lighthouse built:

1871

Height of Tower:

23.5m (77ft)

Height of light above mean sea level:

Character of light:

none now

Character of fog signal:

Not used, but demonstrated to visitors

Range of light:

when operative it was 26 miles

Owned / run by:

National Trust

Website:

NT Open

Other Useful Websites:

Wiki

Routes:

Notes:

Info on self catering accommodation at the lighthouse

The keeper's house connected is a museum, tea room, and gift shop.
.
---
Lighthouse Visit Planning Grid

Name:
Souter Point Lighthouse, South Shields, Durham
Grid Reference:
NZ408641

Location:

Getting there:

2.5 miles south of South Shields and 5 miles north of Sunderland on A183 Coast Road

Access:

Parking:

Car park 100yds, FREE
barrier locked at set times in evening (see notices at entrance)

Address:

Coast Road

Whitburn

Sunderland

Postcode:

SR6 7NH

Telephone:

0191 529 3161

Email:

souter@nationaltrust.org.uk

Opening times:

Generally 11am to 5pm mid March to end October, some other parts of yarer 11am to 4pm. Not open on Fridays, but open on Good Friday. See their website or call before visiting if unsure.

Charges:

NT Members Free
Others: Adult £6.50, child £3.50, Family £15.50 these are the amounts you pay, the price list amounts are different slightly as they ask you to sign a gift aid sheet (if you pay tax) so they get a bit back from the tax man on top.

Best Times to Visit:
Check opening, access and tide times.

Facilities:

tea room, shop

Things To Do, See and Photograph:

Lighthouse, coastal, wildlife, plants, possibly ships.

What to take:

Shoes suitable for climbing many steps, small bag with necessary items, Camera, selected lenses and filters.

Nature highlights:

Coastal birds

Photo Restrictions:

None Known

Other Restrictions:

CHILDREN: At busy times it may not be possible to allow small children up the steep staircase

Dogs: Dogs on leads in grounds only

Other Relevant pages:
Please let us know any other information that we can add to the Further information and Planning Grids or page and any errors that you discover. Before making a long trip to any location it is always wise to double check the current information, websites like magazines may be correct at the time the information is written, but things change and it is of course impossible to double check all entries on a regular basis. If you have any good photographs that you feel would improve the illustration of this page then please let us have copies. In referring to this page it is helpful if you quote both the Page Ref and Topic or Section references from the Grid below. To print the planning grid select it then right click and print the selected area.
Please submit information on locations you discover so that this system continues to grow.