Guile Point Lighthouse

aka Old Law Beacons

Holy Island, Northumberland

Location Guide
Guile Point Lighthouse along with Heugh Hill Lighthouse,

gives a lead for vessels entering Holy Island Harbour. Trinity House assumed responsibility for marking the approach to the harbour on 1 November 1995.
The lighthouse is one of a pair of stone obelisks with the light fixed about a third of the way up the structure.
What we find at this location is a pair of towers used as navigational aids, one of which has had a light fitted part way up, and solar panels to one side.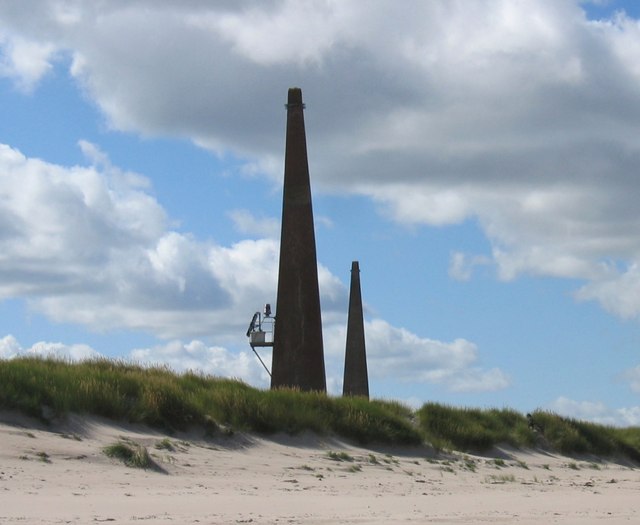 Photo by Stuart Meek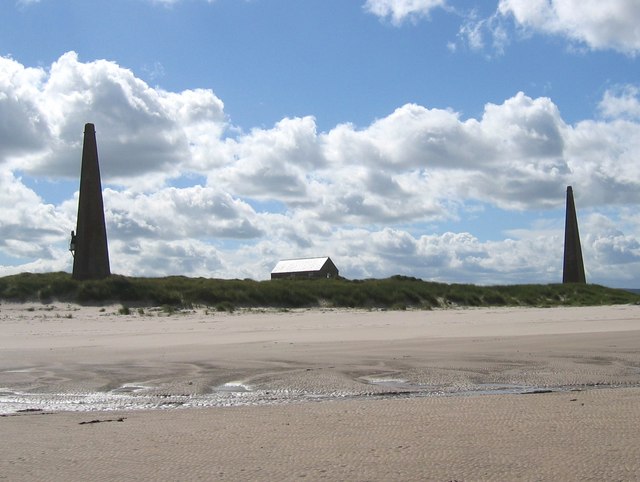 Photo by Stuart Meek

These beacons, known as the 'old law beacons' are said to date from 1859, but Tony Denton, in 'Lighthouses of England and Wales: A Complete Guide', says that they were designed for Trinity House by John Dobson, a Newcastle architect, and built between 1820 and 1840.
They are said to be 69ft or 21m tall, and accounts as to how far they are apart varies. But I would guess from photos around 100yards or 300ft. Given the time they were put in the distance is probably a set number of feet, yards or chains. So its probably 70ft tall.
The Old Law Beacons stand at the tip of a sandy spit on the south side of the entrance to Holy Island Harbour. Vessels entering the harbour lined up the two beacons on a bearing of 260° (just south of due west) before turning sharply northward as they approached the tip of the spit. The beacons were constructed as a day range and no provision was made for lighting them, probably because it was considered too dangerous to enter the harbour at night.
Lights were first introduced around 1993 when a light was listed on the East Beacon. However, it is possible that an unofficial light was displayed for some time before this date. In 1995 Trinity House assumed responsibility for the operation of the light and installed new equipment.
The solar-powered directional light shows the white "in-channel" light on a bearing of 264°, indicating a small change in the direction of the approach channel. The light is mounted about 23ft or 7m above ground level and 30ft or 9m above mean high water.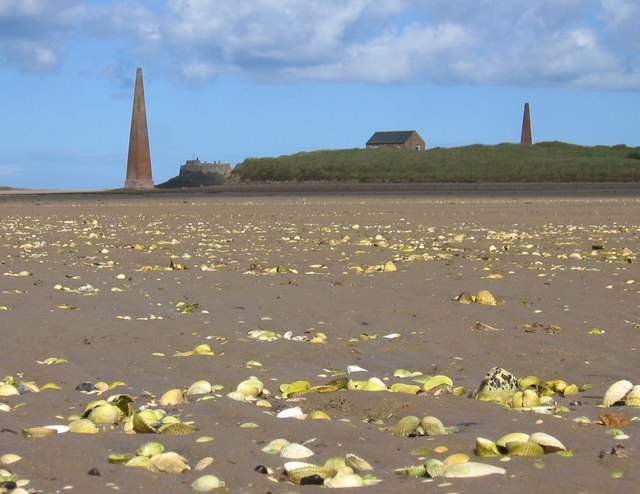 Looking north east to Guile Point, Lindisfarne Castle can be just seen next to the left pillar.

Photo by Stuart Meek

---
Lighthouse information Grid

| | |
| --- | --- |
| Name: | Guile Point Lighthouse, Holy Island, Northumberland |
| Current status: | Currently in use |
| Geographic Position: | 55° 39'.5 N 01° 47'.5 W |
| Grid Reference: | NU130405 |
| Ceremonial County: | Northumberland |
| Appearance: | Two tall and thin square pyramidal stone obelisk. |
| Map Link: | |
| Aerial photo: | Multimap |
| Other photos: | Geograph |
| Originally built: | see above |
| Current lighthouse built: | see above |
| Height of Tower: | 21m 69ft |
| Height of light above mean sea level: | Light 9m |
| Character of light: | Occulting White, Red And Green Every 6 Seconds |
| Character of fog signal: | none |
| Range of light: | 4 nautical miles |
| Owned / run by: | Trinity House |
| Getting there: | Located at the tip of a long sand spit about 5km (3 mi) northeast of Detchant |
| Access: | No roads, but site is open. See map. |
| Website: | TH |
| Other Useful Websites: | Explanation of old law beacon (with photo) |
| Routes: | |
| Other Relevant pages: | |
| Notes: | |
Please let us know any other information that we can add to the Grid or page and any errors that you discover. Before making a long trip to any location it is always wise to double check the current information, websites like magazines may be correct at the time the information is written, but things change and it is of course impossible to double check all entries on a regular basis. If you have any good photographs that you feel would improve the illustration of this page then please let us have copies. In referring to this page it is helpful if you quote both the Page Ref and Topic or Section references from the Grid below. To print the planning grid select it then right click and print the selected area.
Please submit information on locations you discover so that this system continues to grow.