Coquet Lighthouse

Cosquet Island , Northumberland

Location Guide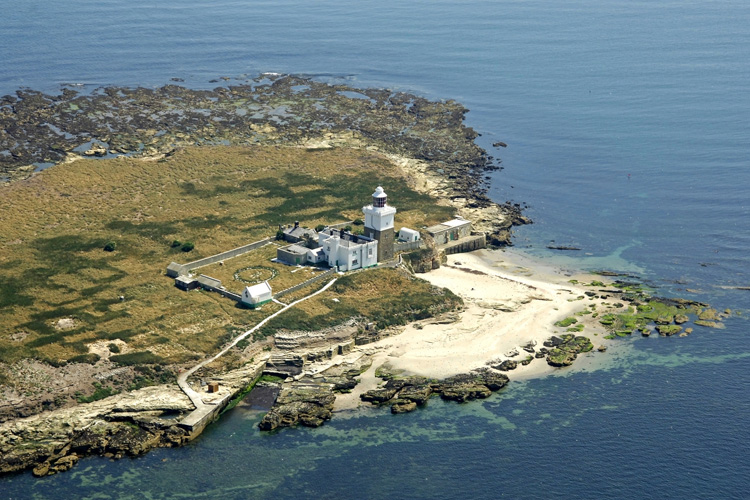 Aerial photo by Marinas.com

more images are available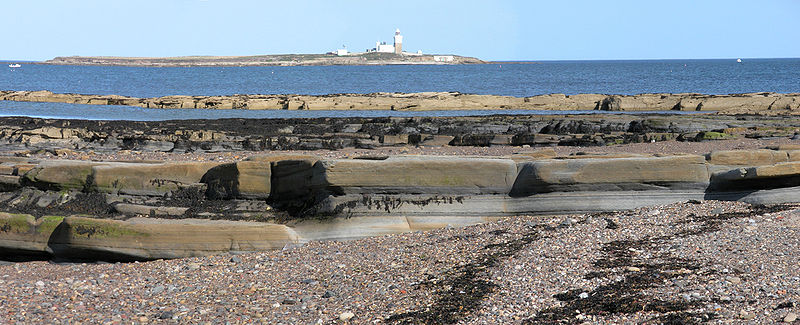 The island from the mainland

photo by Ivor Rackham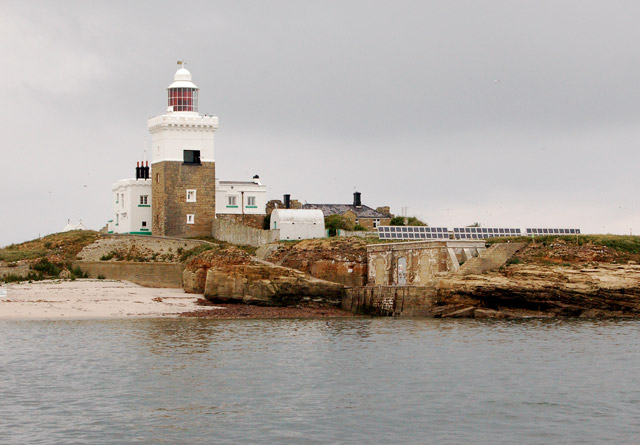 Photo from Geograph

- notice arrays of solar panels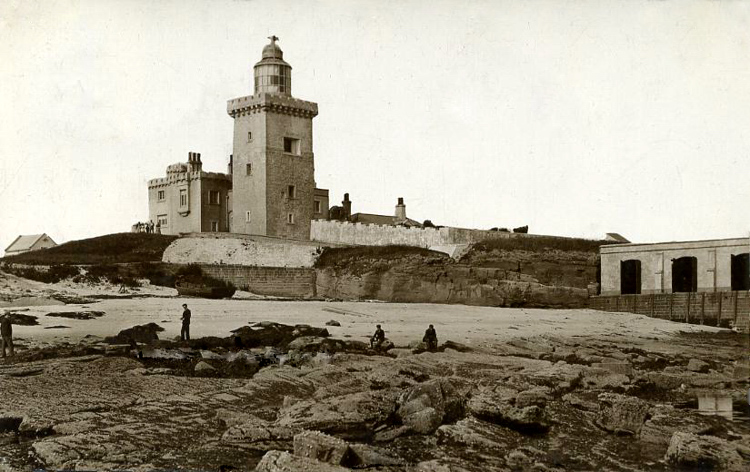 This old photograph or postcard is taken from a similar angle to the above photo,
but I don't know when, but suspect soon after 1910. This is probably how it would have looked when built.
Photo from Camera Images GBPictures archive
In 1841 Trinity House built a substantial lighthouse on the south western shore of Coquet Island. It was built to the design of James Walker at a cost of £3,268.
The white square lighthouse tower is of sandstone surrounded by a turreted parapet with walls in excess of one metre thick. The keepers houses are an integral part of the fortress-like structure.
The first keeper appointed to Coquet lighthouse was William Darling, elder brother of Grace Darling (heroin of Farne Islands

fame). He was the second of her brothers to become a keeper in the Trinity House Service. Grace Darling died from tuberculosis ("consumption"), and it is thought that it was probably a boat trip to see her brother at Coquet Island in the summer of 1842 that led to a chill which eventually proved fatal to her.
The lighthouse was electrified in 1975-6 and automated in 1990.
Coquet Island is not open to the public, so you need to make special arrangements with the RSPB wardens if you want to visit the island. However Puffin Cruises from Amble sail close up to the island in good weather throughout the summer, allowing visitors to get good views of the Puffins and Roseate Terns as well as the lighthouse.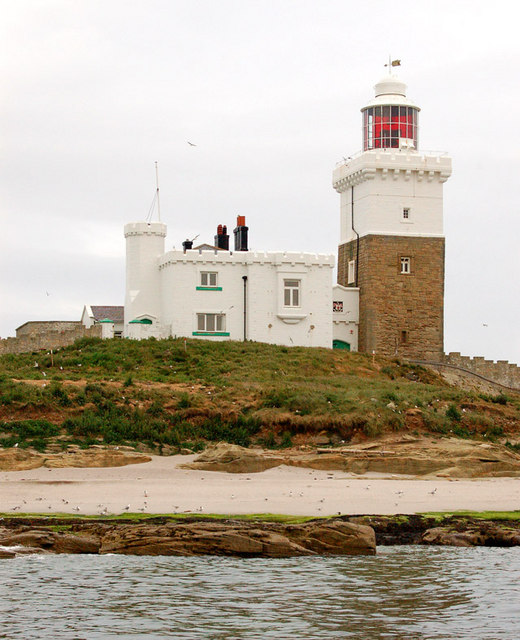 Photo from Geograph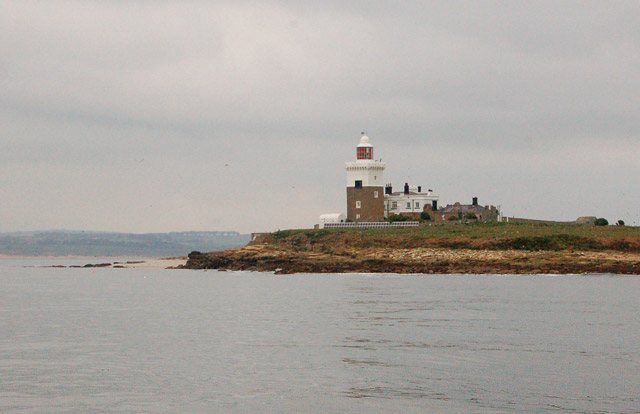 Photo from Geograph

---
Coquet Island
Coquet Island is a small island of about 6 hectares (15 acres) mostly of green pastureland, situated 1.2km off Amble on the Northumberland coast in northeast England.
The Island is owned by the Duke of Northumberland. The Royal Society for the Protection of Birds manage the island as a bird reserve, for its important seabird colonies.
The most numerous species is the Puffin, with over 18,000 pairs nesting in 2002, but the island is most important for the largest colony of the endangered Roseate Tern in Britain, which, thanks to conservation measures including the provision of nest boxes to protect the nests from gulls and bad weather, has risen to 92 pairs in 2005. Other nesting birds include Sandwich Tern, Common Tern, Arctic Tern, Black-legged Kittiwake, Fulmar, three gull species, and Eider Duck.
Coquet Island also holds the remaining structure of a medieval monastery, which was largely incorporated into the 19th century lighthouse and lighthouse keepers' cottages.
The lighthouse, operated by Trinity House, is now automatic with no resident keeper, so the island is uninhabited in winter, but seasonal wardens are present throughout the summer to protect the nesting birds.
Landing on Coquet Island for the general public is prohibited, but Puffin Cruises from Amble sail close up to the island in good weather throughout the summer, allowing visitors to get good views of the Puffins and Roseate Terns.
---
Lighthouse information Grid

Name:

Coquet Lighthouse, Northumberland

Current status:

Currently in use

Geographic Position:

55 20.0 N 01 32.2 W

Grid Reference:

NU293045

Ceremonial County:

Northumberland

Appearance:

Square cylindrical sandstone tower with lantern and castellated stone gallery, attached to a 2 storey keeper's house. Lantern and upper third of tower painted white, lower 2/3'sof tower is unpainted reddish-gray stone

Map Link:

Aerial photo:

Marinas.com Google has a satellite view

Other photos:

Originally built:

1841

Current lighthouse built:

1841

Height of Tower:

22m

Height of light above mean High water:

25m

Character of light:

White And Red Flashing 3 Times Every 30 Seconds

Character of fog signal:

One 3 Second Blast Every 30 Seconds range is 2 nautical miles

Range of light:

White 21 nautical miles; red 16 nautical miles

Owned / run by:

Trinity House

Site manager: Royal Society for the Protection of Birds.

Getting there:

Access:

The lighthouse can be viewed from birding cruises, island is closed to the public It is a RSPB bird reserve.

Website:

TH

Other Useful Websites:

Wiki

Routes:
Other Relevant pages:

Notes:
Please let us know any other information that we can add to the Grid or page and any errors that you discover. Before making a long trip to any location it is always wise to double check the current information, websites like magazines may be correct at the time the information is written, but things change and it is of course impossible to double check all entries on a regular basis. If you have any good photographs that you feel would improve the illustration of this page then please let us have copies. In referring to this page it is helpful if you quote both the Page Ref and Topic or Section references from the Grid below. To print the planning grid select it then right click and print the selected area.
Please submit information on locations you discover so that this system continues to grow.