Carew Castle and Tidal Mill
Standing at the head of the Carew River, Carew is one of Pembrokeshire's most attractive and interesting castles, a fine example of the transformation from medieval stronghold into Elizabethan mansion. It has a history spanning 2000 years and overlooks a 23 acre mill pond. Amongst it's attractions on site is the only restored Tidal Mill in Wales, a medieval bridge and an impressive 11th century Celtic Cross.
A bit of History
Recent archaeological research suggests that Carew was an important Celtic stronghold from the Iron Age right up to the Norman invasion. The site passed to the Anglo-Norman lord, Gerald de Windsor, when he married the Welsh princess, Nest. Gerald built a substantial wooden castle here in the early 12th century.
In 1109 Nest, "the most beautiful woman in Wales", was abducted with her children by Owain, son of the Prince of Powys, who was said to be "mad with lust". The scene of this infamous abduction may have been Carew or Cilgerran Castle.
Gerald's wooden castle was replaced by a stone fortification, much of the work being carried out between 1270 and 1311 by Nicholas de Carew who built a simple, four-square castle with a tower at each corner, a gatehouse and great hall.
Sir Rhys ap Thomas, who fought with Henry Tudor at the Battle of Bosworth, added a number of embellishments and played host here in 1507 to the last great tournament to be held in Wales.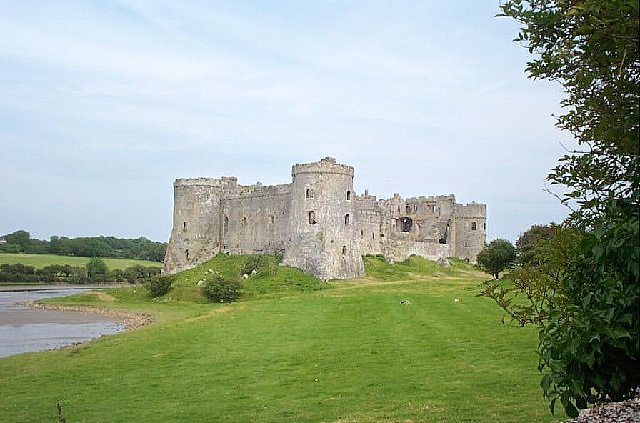 Carew Castle by Garth Newton

In 1558, Carew was granted to Sir John Perrot, reputedly the illegitimate son of Henry VIII. He built the great north gallery with its elegant mullioned windows, but died in the Tower of London in 1592 before he could complete the work of turning the castle into an Elizabethan mansion.
In the Civil War the south curtain wall was nearly demolished by Parliamentarian forces during a fierce assault in 1645.
Local Wildlife
In 1995 the castle, grassland, millpond and mill lane were designated a Site of Special Scientific Interest and within the site has more than half of all the species of bat found in Britain, including the Greater Horseshoe bat recorded there over the past few years. The millpond attracts, redshank, curlew, common sandpiper and shelduck, as well as having it's own resident swans. Of course there are a number of well know UK birds who make their home in the castle such as blue-tits, wrens, jackdaws and blackbirds. Since 1988 it has been home to a flock of Jacob Sheep.
Carew Tidal Mill
Its precise reason for being there is not certain, documentary evidence indicates there has been a mill on site since 1542, although the present building dates from the early 19th century, and one of the two mill wheels carries a date of 1801. The mills was constantly in use from the late 18th century until 1937 when it ceased to be used. It has been restored and has audio visual facilities and a special exhibition on the Story of Milling.
In the castle grounds is the fine 11th century Celtic Carew Cross (free entry to cross).
There is also a picnic area and this together with the other items on site are all linked by a mile roundwalk.
It is managed by Pembrokeshire Coast National Park.
---
Planning Grid
Location:

Carew Castle

Grid Reference

SN 045037

Map Link:

Getting there:

Off the A40 take the A477 to Pembroke Dock. Off this road the the A4075 to Carew.

Access:

From Castle Lane off the A4075 at Carew.

Wheelchair access to the ground floor of castle, mill and shops. The mile round walk is also wheelchair friendly.

Parking:

Ample parking for coaches and cars.

Facilities:

Gift shops, guided tours, summer events. Information centre, toilets, including disabled in castle, Picnic sites, the main on the North side of the Mill Pond, but you can picnic on any grassed areas open to public.

Things To Do, See and Photograph:

Castle, Tidal Mill, Carew Cross, mill pond, Swans and sheep

Guided tours of the castle take place at 2.30pm daily.

What to take:

wide angle lens, telephoto lens for wildlife, water for mile roundwalk, polariser for skies and wide span of water

Nature watching:

Bats including the Horseshoe Bat, garden bird species, waterfowl such as redshank, curlew, common sandpiper, shelduck and resident swans. Jacob Sheep.

Best Times to Visit:

Sunny days for reflections, maybe cloudier days for more moody atmospheric shots.

Address:

Carew

Nr Tenby

Pembrokeshire

Postcode:

SA70 8SL

Telephone:

01646 651782

E-mail:

Website:

Opening times:

Castle and Mill: 1st April - end of October 10am to 5pm daily.

Castle Only: November-Easter 11am-3pm

22 Dec to 4th January Closed.

Charges:

Castle and Mill Adult £3.00; Concessions £2; Family £8.00

Castle (Winter only): £2 per person

Photo Restrictions and Copyright:

Other useful websites:

CIN Page Ref:

carew_castle
Please let us know any other information that we can add to this Planning Grid or page and any errors that you discover. All our information is only as up to date as members have provided, so please remember to tell us of any errors or updates so that we can all benefit by sharing our knowledge and experience. Before making a long trip to any location it is always wise to double check the current information, websites like magazines may be correct at the time the information is written, but things change and it is of course impossible to double check all entries on a regular basis. If you have any good photographs that you feel would improve the illustration of this page then please let us have copies. In referring to this page it is helpful if you quote the CIN Page Ref at the bottom of the Planning Grid above. To print the planning grid select it then right click and print the selected area.
Please submit information on locations you discover so that this system continues to grow.